Featured Vacation Rental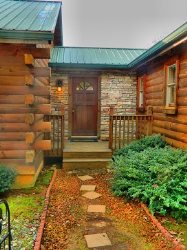 Riverside Retreat
Local Area Guide: Things to do / Activities / Attractions
Family Activities

Helen offers a wide range of attractions and outdoor activities. The area's natural setting lends itself to many activities including hiking, biking, swimming, and camping. Museums, waterfalls, and amusement parks are just some of the attractions that are sure to entertain the whole family.
Fishing

Around 1.29 million resident anglers fish Georgia's diverse freshwater resources that inlcude more than 4,000 miles of trout streams, 12,000 miles of warm water streams wider than 10 feet, and 500,000 acres of impoundments. Helen is one of the finest fishing areas Georgia has to offe. So grab you fishing pole and that lucky hat and come visit us!
Golf

Helen has some of the most amazing and challenging golf coarses. North Georgia courses offer enough variety of terrain and hazards to challenge any skill level and not to mention you'll get to enjoy the breathtaking views.
Local Culture

Helen has accomplished much; it has created a new town and industry, providing jobs for more people and boosting the economy of the entire area. Helen also commemorates its historic past when the early settlers came to this remote area. A village with mountain heritage and a touch of Bavaria, Helen has created a unique experience for its visitor. So come find out the story of Helen, the miracle of a small, remote mountain community who revitalized itself in various ways throughout several centuries, and who today hosts millions of visitors each year.
Restaurants

Helen & White County have a wide assortment of restaurants from German-American to Southern cooking there is something to suit everyone.
Shopping

Shopping in the Helen area is very diverse. Helen offers many import and specialty shops. Antique and craft shops are dotted throughout the area making Helen a "must" for the avid shopper.
Spa's and Retreats

Pamper yourself in one of the many Spa's that Helen offers. Enjoy exhilirating contrast pools, couples stone massage treatments, and eucalyptus-infused steam rooms. Some offer fireside lounges that await you with overstuffed chairs, warm blankets, hot organic teas and herbal infused waters and a outdoor terrace with panoramic mountain views.
State Parks

Unicoi State Park is one of the most popular parks in Georgia. Some of the many reasons why it attracts so many visitors includes the parks outstanding natural beauty, a wide range of amenities, and Unicoi State Park's proximity to the alpine village of Helen..
Summer Activities

Summer is just around the corner, and there are plenty of reasons to visit the North Georgia Mountains! Helen is usually around ten degrees cooler than the lower elevations, so it is a great place to cool off under trees or jump in one of the many lakes, streams, or rivers. We love our warm summer days and cool summer nights!
Wineries & Vineyards

Once you are here, you'll know why the locals are smiling. When we offer you a glass of our wine, you'll realize that you will be holding something as impressive as our mountain landscape. This may be the Peach State, but grapes are our passion, and the clusters in our vineyards produce award-winning wines, which are gaining national recognition and fueling the emergence of North Georgia as a prominent wine region. Come taste a perfect day in Helen, and discover the passion that you've been missing...
Winter Activities

Helen lies in northeast Georgia's Blue Ridge Mountains and has a rich cultural history dating back to the Cherokee Indians. Later, European settlers to the area created a Bavarian Alpine village in Helen, complete with Old World cobblestone streets, chalet architecture and German food and crafts. December is a special time in this cozy village, with festivals, wine tastings, unique gifts and Christmas treats for all ages
Horseback Riding

Whether you are an avid horseback rider, an occasional rider or have just always wanted to ride a horse, stables near Helen, Georgia, provide rides to accommodate all experience levels, including young children. Take in the beauty of the mountains and valleys of the Chattahoochee National Forest when you vacation in the foothills of the Blue Ridge Mountains near Helen, Georgia.
Weddings

Looking for all the inside information on local wedding venues. Here it is!
Calendar of Events

Check out the upcoming events and must do's in Helen! We always have something going on for you to fit into your itinerary.... http://www.helenga.org/events